Shortly after finishing the Craft Beer Rising event, we were inundated with trade queries and indeed online sales too (which is always great)!
One of the queries we received was inviting us to attend the Food Fest 2017 event to be held in Kent on the 3rd and 4th of June. It was for a really good cause supporting the Children with Cancer foundation.
We jumped at the opportunity and signed up straight away.
The preparation leading up to the event was much calmer when compared to #CBR17! A bit more work was required getting the Gazebo branded, serving table built (using scaffolding pipe work!!) and a new banner showing off the branding of our newly released website!
The rest was business as usual (thankfully)!
The setup was quick – being chased by flash flood thunder storms can encourage you to do this is double quick time!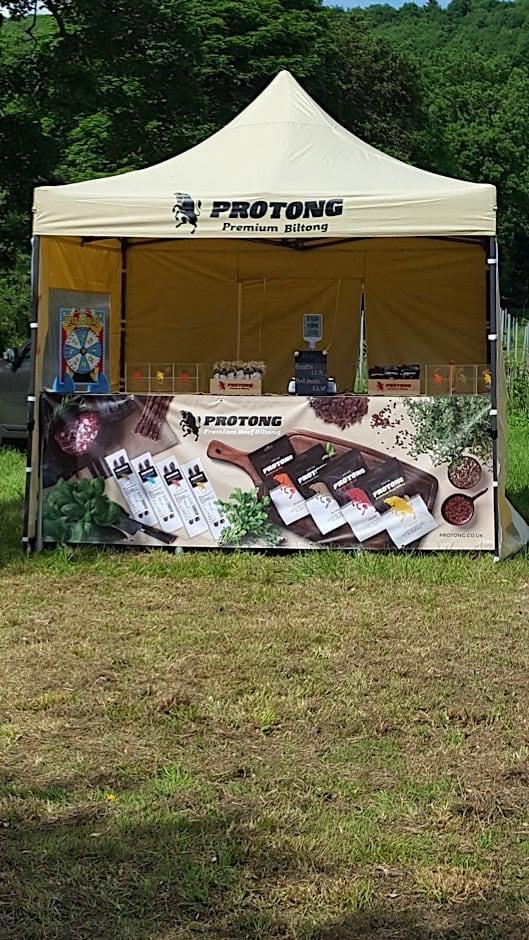 It is impossible to compare this event with Craft Beer, there were so many wonderful food stalls available it must have been impossible for families to pick their favourite choice!
However, we were pleasantly surprised at how many people either jumped at the opportunity to try Biltong for the first time or came by to give it a go again (the same theme of "I tried biltong bought from the supermarket and didn't like it" was well and truly coming through again)!
I am going to digress from the event for a sec and focus on the last comment a little bit. I love Biltong, I have been making and eating it since I was a little boy and it saddens me to hear that by and large, Biltong doesn't have a very good name amongst the general public and largely due to the mass produced products out there.
For all those reading this, please don't be put off Biltong until you have really tried the good stuff – there are some really good producers out there!!
Ok, back to the Food Fest :).
Overall, the event went really well. The feedback we received was once again so positive!
We met some wonderful people at the Food Fest, right from the organisers to our fellow traders and finally the wonderful families that visited our stand. Thank you for all the support!!
So there we go, another event done, more lessons learned and many more satisfied Biltong eaters out there!
Until next time,
Glen and Robyn