What a way to start our event experience – getting the opportunity to pair our premium Biltong with the best craft beer from around the world!
To set the scene of how big a step this is for us, we have been trading mostly through word of mouth up to now whether it be in the gyms, pubs or private sector and as we don't have a bricks and morter type shop, it is important that we get out into the general public to get their feedback straight away – NO HIDING!!
The build up to the event has been a huge learning curve, so many things to consider for a 2m x 2m space! Banner, scales, display units, flyers, shirts... to name a few of the list that was as long as my arm of things to accomplish before the event. The biggest questions of all was "How much Biltong is enough"? An estimated 10,000 people were forecast to attend the 4 day event!
The setup was slightly stressful, but we got there in there end after a few teething problems at the start – but event organisers for Craft Beer Rising were amazing throughout and a pleasure to work with!
When the doors opened, there was a huge amount of excitement and expectation which was met with disappointment. The first couple of hours was dead for our stand. If I got a penny for every "we'll be back later" we received...
Well, they came back! The feedback from everyone was astounding and soon we saw our red and white pick and mix bags doing the rounds at the venue.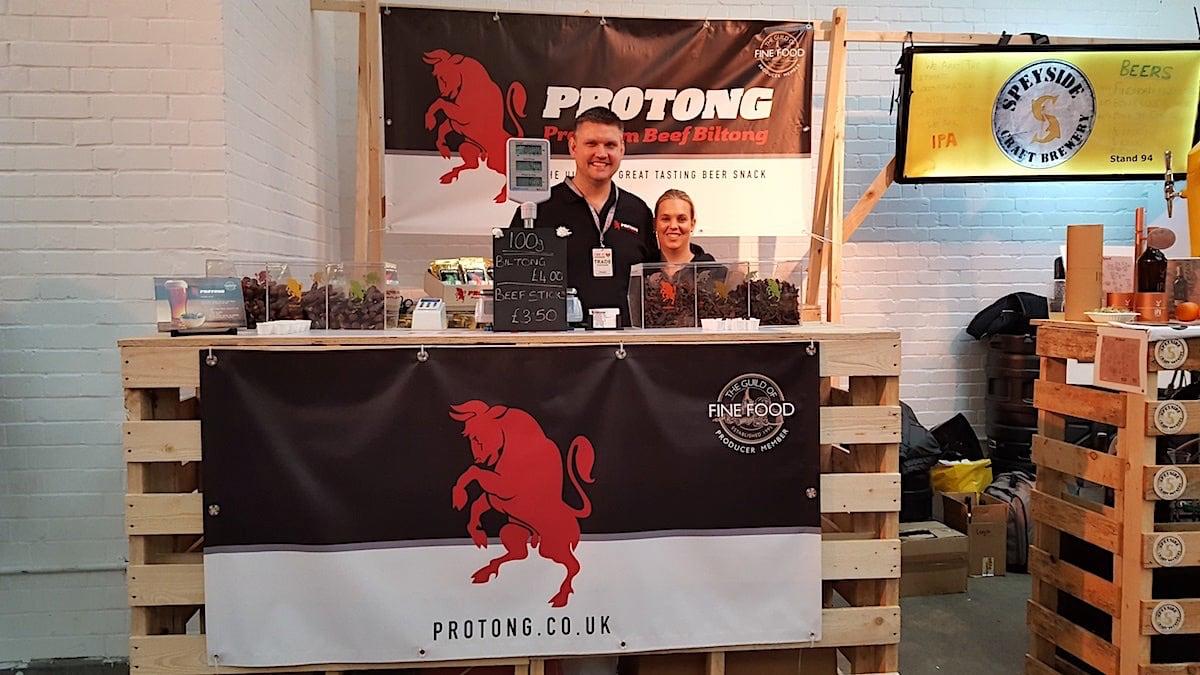 Over the 4 days, we managed to sell over 70kg of Biltong and Drywors which was fantastic. We tried to collect as much info / feedback as possible along the way and the most interesting and common comment/feedback that we received was that a lot of people had tried Biltong before but were not that keen as the biltong they tried from the supermarkets was unpleasant to eat right from the taste to the texture. We did have to convince a few people that Protong Biltong is different, just have a try.
It eventually became entertaining to watch, each person put the sample in their mouth, start chewing and the nod of approval would start (Texture is good – check), they would chew further continuing with the nod of approval (Taste is good – check) and finally the swallow followed by a smile and "That is really good".
The sales were really good, but seeing the look of approval and satisfaction on all those faces was the best feeling ever and it never grew old.
Overall, it was a hugely successful event and not a bad way to start. The public have spoken – Protong Biltong has an amazing product – and it goes REALLY well with beer too :)
Yours truly,
Glen and Robyn